Recommended By These Trusted Publications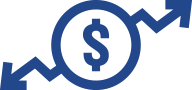 The Most Concise, Data-Backed Mutual Fund & ETF Tools Available
Mutual funds and ETFs don't advertise the taxes, fees, and trading costs that come along with them. And these unseen costs add up over time. When you use Personal Fund as your personal cost analysis tool, you have access to the #1 data platform to advise your clients on mutual fund and ETF costs and increase the likelihood of investment success. Enhance every portfolio analysis with industry-leading data and analytics that reveal the true costs of fund investments and help investors make more informed decisions.
Backed by years of economic research, our Fund/Investment Cost Calculator reveals each fund's true price tag and estimates how hidden expenses will eat away at returns over time.
Game changing insights are at your fingertips with our customer-focused tools.
We use Personal Fund extensively when analyzing portfolios and have found no better tool on the market for capturing and conveying mutual fund cost information to our clients and prospective investors.
Jason Vander Pol, Chief Operations Officer, Strategic Wealth Designers
I love your web site. Use it often! It really helps me to show clients the true costs of mutual funds and determine which products will provide the best return for their investment.
Curtis Wethington, AIT Wealth Management 
Personal Fund's portfolio analyzer showed me that I could save more than $350 per year by selling my $235,000 investment in one name-brand S&P 500 index fund and replacing it with a different name-brand S&P 500 index fund.
Irene S., individual investor, Skokie, IL


About Us
Personal Fund
Leading Finance Expertise + Top-tier Technology
Personal Fund was founded by leading financial and technology experts in order to empower investors. Our subscription-based internet solutions are designed to help you save time, minimize cost and risk and invest successfully with confidence.
Led by statistician Stefan Sharkansky, PhD, our most recent study of 46,000 mutual funds and ETFs spanned across asset classes to measure the harmful impact of management fees, turnover and taxes on fund performance.
Our findings took our proprietary analytics, along with the cost analysis reports they produce, to the next level. We're proud to provide our industry-leading Mutual Fund and ETF Cost Calculator  to expert financial advisors and individual investors alike.
Stay ahead of the market with unmatched insight…

Comprehensive Analysis of Trading Costs

Full Accounting of Fees in Expense Ratio

All Applicable Taxes, Identified & Analyzed